In 1936, this PDO (AOC) was part of the first one created. Being shadowed by more prestigious AOC like Sauternes, it crossed ages to live a revival since few years now. Also called « Bi dou Rei, Rei dou bi »: « Wine of King, King of Wine » in Bearn dialect, wines from Jurançon AOC are something special to me. Maybe because I was born there, maybe because I am surrounded by these marvelous persons who succeed to grow and to cherish the Manseng grape. Being objective these wines compel what is necessary to produce fabulous wines, such as balance between sugar and acidity but also the aromatic power and freshness of the Manseng grape (especially the « Petit »). You probably got it, we are going to talk a bit of Jurançon wines!
A bit of History
There are some evidences of Jurançon vineyards as old as the Roman era but by this time the wine was totally different from the one of today. The legend says that king Henri the fourth was baptized according to the béarnaise tradition, in other words by moistening his lips with Jurançon wine after having previously rubbed some garlic on it. It was supposed to give strength and vigor. The king made good usage of the wine and put it into light. Different wars and predominantly the Phylloxera crisis at the end of the XIXth century put on hold and stopped the production. It is only after the World War One that some motivated winegrowers re-built the vineyard. 1936: Jurançon AOC is created, only for sweet white wines. 1949: a group of winegrowers gather to create what is called today the Cooperative of Gan-Jurançon. The 300 winegrowers exploit today 750 hectares of the AOC (1300 hectares in total). 1973: Jurançon Sec AOC is created because of successive bad years that made difficult production of sweet wines. 1985: a group of winemakers and ex-coop winegrowers gather to create what is called today « Les Vignerons du Jurançon » (Jurançon's Winemakers). This association gathers around 60 winemakers and 550 hectares of the 1300 of the AOC. Only for comparison Bordeaux vineyards totalize 110 000 hectares… Jurançon is a small AOC made of great wines! A unique terroir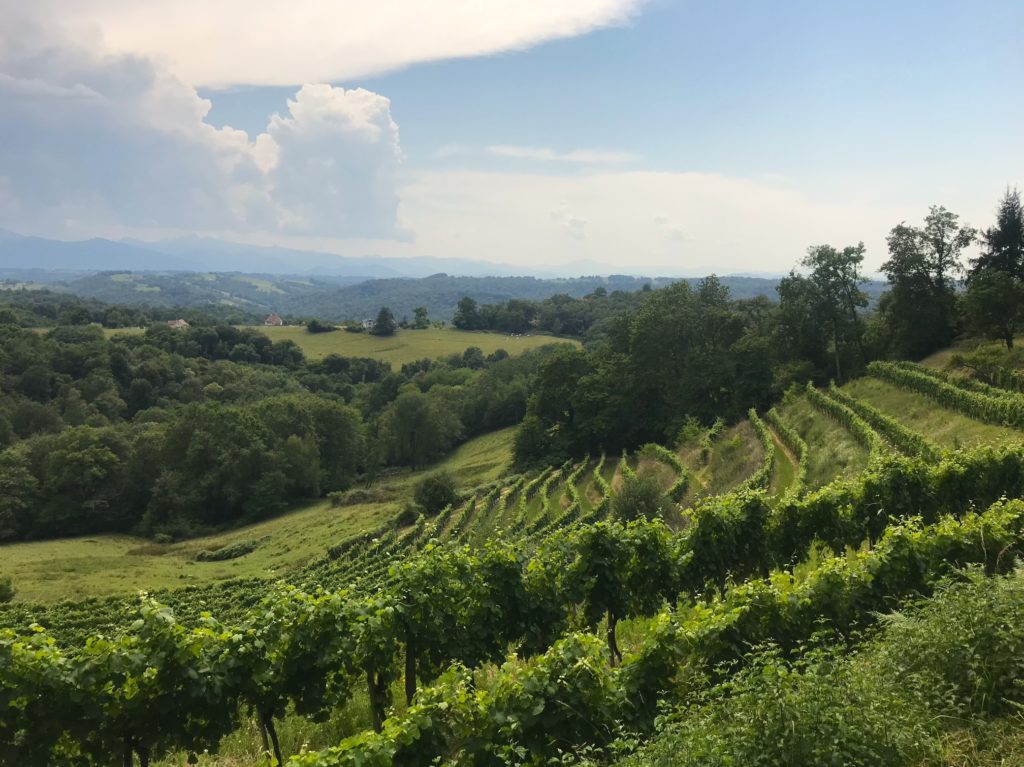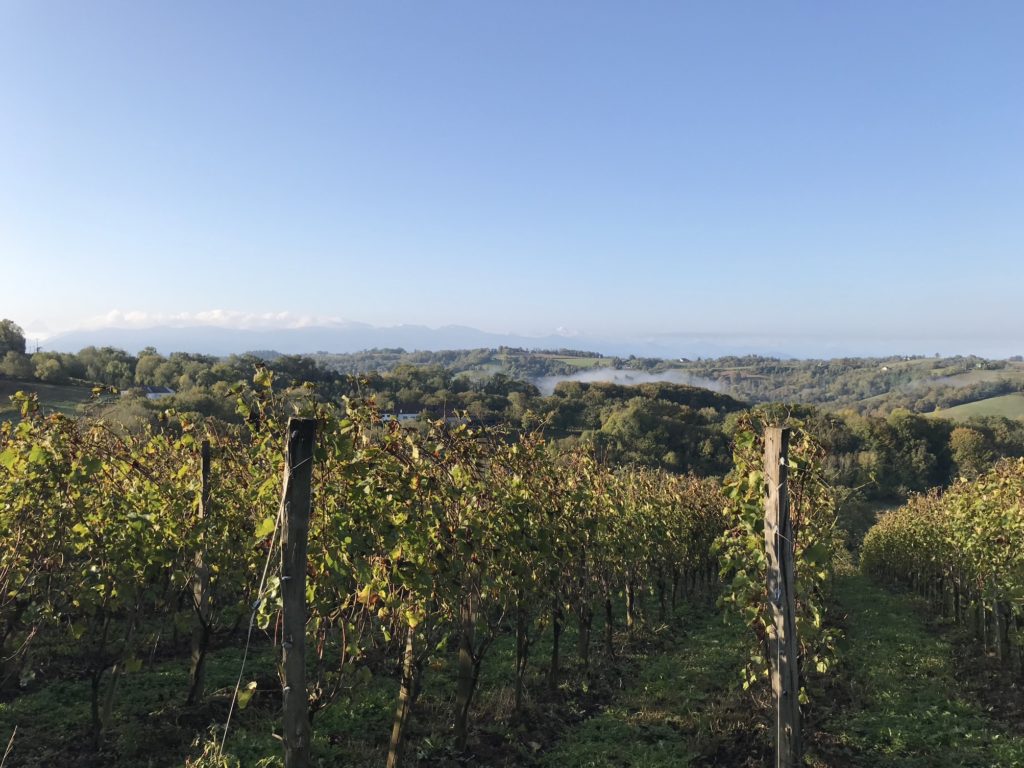 The uniqueness of this territory is given by the Pyrenees mountains. Taking center stage and lying behind the vines, mountains are more than valuable. Vines are located on the undulating foothills of the Pyrenees, around 350m above sea level. Differences of topography bring different kind of soils here. The appellation is stretching from East to West, from Gelos to Lucq-de-Béarn, passing through Monein and Chapelle de Rousse. On the western vineyards soils are predominantly made of clay, gravels and a bit of limestone giving the well-known « poudingue » soil of Jurançon. More to the east this soil is also found but with a bigger proportion of limestone. These differences play an important role in the style of wines that are produced. The other parameter to consider is the climate. This area is close to the Atlantic Ocean (to the West) which brings a lot of rainfall all over the year (up to 1200mm per year!), we talk about a Maritime influence here. Rainfall means humidity and humidity means fungal diseases (mildew, odium, etc…). This is not wanted in any kind of vineyards. To fight this humidity vines are trained higher compared to other regions. This training system is called « hautain » and is typical of this kind of region. The fruit zone is far from the ground at around 1 meter high. This is good for the wine but also for back's workers during harvest…this gives also extra sun exposure to the vine. What about grape varieties?? 5 are authorized in the AOC : Petit Manseng and Gros Manseng represent around 95% of the plantings, the rest is other indigenous grapes such as Courbu (petit and gros), Camaralet and Lauzet. These grapes are autochthonous and well adapted to showcase the terroir of the foothills.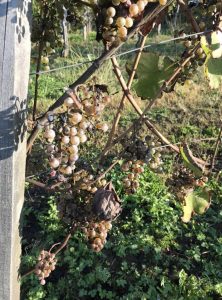 Petit Manseng
is seen as the king of the AOC, being an offspring of Savagnin from Jura, its skin is thick and berries are loose. This means that it is resistant to fungal diseases. Acidity and sugar levels are naturally high in this grape and it needs times to grow. This is a perfect match for the production of naturally sweet wines but not only! It is highly aromatic providing aromas of peach, honey, exotic fruits such as mango, pineapple but also some sweet spices. It can be used alone or blended with other grapes.
Gros Manseng
is an offspring of the Petit Manseng. Its berries are bigger but thinner than the Petit Manseng. It is then more susceptible to fungal diseases. Acidity and sugar levels are as high as its cousin. It produces more volume but keeps consistence in the quality. Aromas are more on the citrus notes and sweet spices. It can be used alone or blended with other grapes.
Courbu
is used as a blending partner. Sugar levels are high but acidity a bit lower than Manseng grapes. It brings aromas of citrus and grapefruit in the blend.
Camaralet
is an old grape which has been brought back 10 years ago by some independent winemakers of the region. A lot of care is needed to produce it. It is a low productive grape which brings low alcohol, aromas of peach, honey and fennel to the blend.
Lauzet
is also an old grape variety. As for Petit Manseng it needs time to reach maturation. It brings body, spice notes and high acidity to a blend.
On the wine side
Remember Jurançon AOC only deals with sweet white wines with a minimum residual sugar level of 40g/L. They have to be made of minimum 50% of Manseng grapes (Petit and/or Gros). In addition, they can be blended with Camaralet, Lauzet and/or Courbu. This gives a lot of diversity which can be found in the independent winemaker' wines of the appellation. Two styles can be outlined: – A « young » style made mainly of Gros Manseng and other grapes giving fresh wines, easy to drink. Focus is put on the acidity/sugar balance. These wines are vivid with notes of citrus but still having something sweet. – A more traditional style where the Petit Manseng is in the main component, still having this acidity/sugar balance but with more complexity and sweetness. Oak maturation can be observed here but it is optional and depend on the winemaker will. This style of wine can age. For Jurançon Sec AOC wines same rules apply. The difference here is that grapes are harvested earlier (or not depending the case) and fermentations are left until the end. AOC rules state that these wines can have a maximum of 4g/L of residual sugar. Jurançon Sec wines are really dry! There are also two styles. With these dry wines Manseng's aromatic power and freshness are highlighted. Petit Manseng is well suited to the dryness and also to oak maturation. Concentration of aromas such as peach, pineapple, acacia, a hint of minerality and the use of oak all contribute to the complexity of these wines. Acidity is the backbone of these long-lasting wines which can be aged for decades for whom succeed to keep it. Also, since 1996 Jurançon AOC can use the term « vendanges tardives » (late harvest) on the label. This means that grapes are hand harvested after the 10th of November. Sugar concentration will be higher than the other sweet wines of the appellation. These are naturally sweet wines with a high complexity. Aware of their impact on the environment and their terroir winemakers et winegrowers of the AOC are more and more to change their habits. More than 3/4 of the independent winemakers of the AOC are conducting their vineyards biologic, biodynamic or are in conversion. They also adapt their wine production to the consumer's taste producing drier Jurançon wines. (1/3 of the total production is Jurançon Sec AOC) As you can see there is not ONE but multiple Jurançon wines that can satisfy everybody taste!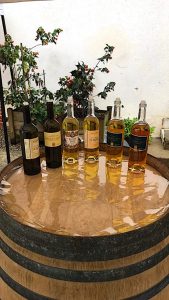 Gauthier Bernardo DipWSET