Let me bring you to an adventure, far away, in a country that you may dream about (at least I dreamt about). I had the chance and the opportunity to visit it end of 2018. Let me bring you to Chile and most precisely in the Maule Valley south of Santiago.
In this country viticulture can be traced back to the XVI century. Spanish pilgrims brought with them vines of which was a grape variety called (and still called) Pais -aka Mission- and started to cultivate it. Maule Valley is considered as the cradle of chilean viticulture and it is said to be the oldest wine region of the country. Nowadays it is one of the most productive wine region with 30 000 hectares.
This area is part of the huge Central Valley wine region, being located at 250km south from Santiago, underneath famous Maipo and Colchagua wine regions. Maule Valley is known to produce high volume of simple wines belonging mainly to big wine producers and brands. However, wines from there are living a kind of renewal thanks to its location. Can you imagine that this wine region spreads over 100km providing a range of terroirs and climates.
Terroirs
In this valley altitude ranges between 400 m and 1000 m above sea level starting from the Coastal Range up to the Andes. Many rivers can be found flowing mainly East-West providing different soils. The (amazing) landscape is composed of alluvial plains with a rich and fertile soil which is ideal for high yielding production. There are also hills with poorer and free draining soils, of some are composed of volcanic material – Maule Valley is the biggest volcanic soil wine region of the country.
Two main sub-region (divided in several sub-zones) can be outlined:
– the Loncomilla region (which is a Maule river affluent), around the city of Talca, is composed of alluvial rich and fertile plains. Red, fruity and light wines are produced there thanks to Merlot and Cabernet Sauvignon in majority from high yields.
– the Cauquenes region in the southern part of Maule Valley. It is the coolest area as well the hilliest and spreads from the Coastal Range to the Andes. Numerous grapes thrive here as the Carignan, Grenache, Tempranillo, Cabernet Sauvignon, Merlot, Pais and Chardonnay… Here yields are lower and vines bush-trained and dry-farmed.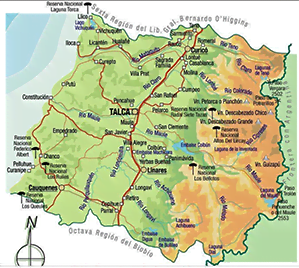 It is quite common to find old vines – as old as a century- in this wine region.
Climate
Because of its size and its topography, this wine region provides a range of microclimates. Globally, climate in Maule Valley is mediterranean with cooling influences brought by cold winds from the Andes to the East. This is where rainfall is the highest in the country as a wine region with between 700 mm and 1000 mm of rain per year! Rainfall occurs in winter to fill up soils and to provide what the vine will need in water for summer time. Summer is dry and hot especially in daytime. Solar activity is important too. What is appreciated here is the high diurnal range during the maturation period. Indeed, cold winds from the Andes cool down night temperatures that slow down vine maturation, enhancing its life cycle and keeping bright acidity in the grape and in the wine consequently.
What about wines?
As you may have guessed there is not only one wine style in Maule Valley. Its size, its topography, its soils are as natural factors as wine styles. If you add human factors and the will of each winemaker you end with an almost infinite style of wines.
As mentioned earlier this wine region is home of bulk production, simple red wines. However since mid 90s technical progress in terms of vinification and the state of mind of a group of different winemakers allow to increase wine quality and to take profit of this natural diversity.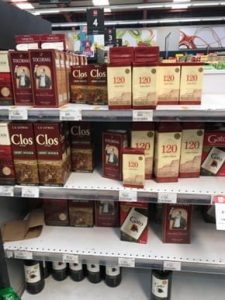 Besides, Maule Valley is priced for its excellent Cabernet Sauvignon wines and its aromatic and spicy Carmenere wines.
Cabernet Sauvignon produces wines with red fruit, plum and spices aromas. It can be made in a simple style from high production as well as from smaller production with complexity and oak ageing. It is the most planted grape variety.
Carmenere (confused for a long time with Merlot) provides wines with ripe black fruits such as cherries, blueberries, blackberries and are juicy. When they are aged in oak, complex and fine notes of toast and smoke give to the wine a long finish and contribute to its high quality.
Maule Valley is well known for its wines made from Carignan as a monovarietal wine which is not quite common for this grape. Wines have an earthy and animal expression, typical from the grape variety, associated with black fruits aromas, pepper, liquorice and spices.
Pais grape is also used especially in the South of the region. It is produced in different styles from light and fruity everyday reds to more concentrated wines from old vines.
White wines are also found even though red wine production is the main focus. Muscat of Alexandria, Chenin Blanc, Sauvignon Blanc and others can be found but Chardonnay is the main attraction. It is mainly made in an oaky and spicy style with vanilla notes – especially when new oak is used in the vinification- alongside exotic and stonefruit aromas.
One thing important to notice is the high proportion of vineyards conducted in organic viticulture for more than 10 years now. This is possible thanks to the natural environment and the dedication of the different winemakers to produce healthy and « clean » grapes.
That's it you know almost everything you need to know about Maule Valley, at least the essential informations, enough to give you the wish to go there! This wine region produces at the same time everyday wines, juicy, fresh, fruity of a good price value and wines from old vines, from a smaller production, that are concentrated with intense notes of fruits and complexity that you can't forget, unique wines, terroir wines.
What is sure is that once you taste a chilean wine you will always remember it…
Gauthier Bernardo DipWSET